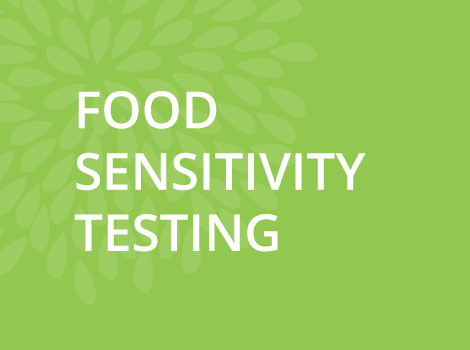 An estimated 45-60% of the general population suffers from serious symptoms and health conditions whose causes cannot be identified. Many of them have no idea that various forms of food sensitivity may be to blame. Reactions to food are the hidden cause behind an extraordinary array of health problems, including headaches and migraines, insomnia, and digestive disorders. An advanced diagnostic food allergy blood test now enables you to zero in on the potential foods behind your health problems and methodically eliminate them—for lifelong relief and optimal health.

Food Allergies vs. Food Sensitivities
We've all heard of someone who had to be rushed to the hospital because a restaurant used peanut oil in preparing certain dishes without informing its patrons. These are properly defined food allergies, and they manifest immediately. They may pose a more immediate health threat, but are relatively easy to detect and treat.

Food sensitivities, on the other hand, are triggered by a distinct underlying mechanism. They can take a long time to develop, making them difficult to identify as the culprits behind a given set of secondary symptoms. The problem is they can wreak just as much havoc on your body over the long-term.

Once your immune system detects a substance it considers foreign, a chain reaction is set in motion to repel the perceived "invader." This defensive mechanism is launched by lymphocytes, white blood cells capable of producing specific antibodies to target and neutralize the threat.

They release five different types of antibodies: IgA, IgD, IgE, IgG, and IgM. It is the IgE and IgG antibodies that are mobilized when lymphocytes come in contact with allergenic food proteins. We don't know precisely what causes some people's immune systems to consider foods to be "foreign," while other people's immune systems consider food to be—well, just food! However, in the process of trying to rid the body of something it believes shouldn't be there, a vital and normal process goes very wrong, subjecting us to "symptom attacks" triggered by the foods we depend on every day for life.

Again, these types of intense reactions—anaphylactic reactions—occur within minutes after eating or being exposed to a food or other substance and are usually associated with "IgE" antibodies. IgE-mediated food allergies are most common in infants and children; we tend to lose sensitivity to many of these common food allergens as we age.

"IgG"-mediated food sensitivities tend to be "masked" or hidden, since IgG antibody-related symptoms tend to occur many hours to days after exposure to offending foods. Considerable controversy exists about these types of food allergies and sensitivities, precisely because of the delayed onset of symptoms and the difficulty this presents in making a clinical correlation between symptoms and food triggers.

This is where accurate and reliable allergy testing has the most to contribute to diagnosis.

Gluten, Celiac Disease, IBS, Migraine Headache

Perhaps the most well-known example of this is the widespread number of health problems produced by gluten (or gliadin, one of its constituents), proteins found in products made with wheat, rye, barley, and spelt (in fact, most grains except corn and rice). Though oats are not a gluten-containing grain, they tend to be included in this group because they are often processed on the same equipment as wheat and may be contaminated by it.
The most serious form of gluten sensitivity, known as celiac disease, may affect as many as 1 out of every 133 people. If undetected and untreated, gluten sensitivity can cause a weakening of the villi of the small intestines. These minute, finger-like protuberances are vital to nutrient absorption; their atrophy may lead to a host of chronic ailments. Those who are sensitive to gluten can, at its worst, experience severe weight loss, fatigue, and malnutrition, all caused by nutritional malabsorption related to gluten. Of course, many if not most of these adverse effects can be prevented or reversed when gluten sensitivity is detected early and products containing gluten are eliminated from the diet.1
Though many theories have been proposed for its cause, irritable bowel syndrome (IBS) is another condition that may have its origins in food sensitivity. At any given time, 12-20% of adults complain of symptoms consistent with a diagnosis of IBS, making it one of the most common gastrointestinal disorders in the United States. The symptoms characteristic of IBS include gastrointestinal discomfort and pain accompanied by intermittent diarrhea and constipation. More women than men are affected. When patients are assessed for food sensitivity and those foods identified by testing are eliminated from the diet, many report significant improvement in their symptoms.
Migraine headache is another condition long associated with food sensitivity. Among the foodborne triggers most frequently associated with migraine are nitrates, a type of preservative found in certain types of processed meats; tyramines, which are found in red wine, cheese, and soy sauce; and phenylethylamine, found in chocolate. Caffeine, citrus, vinegar, and alcohol may also be migraine triggers. People suffering from migraines have been shown to improve significantly once they remove offending migraine "trigger foods" from their diet.
A Cutting-Edge Detection Method
Fortunately, an advance in diagnostic technology is now available that uses a very small amount of your blood to assess your sensitivity to the most common food antigens. Instead of requiring blood to be drawn from a vein, a small lancet is used to prick the finger so that a few drops of blood can be placed on a blood spot collection card. After the card is allowed to air dry, it is returned to the laboratory for assessment of IgG4 antibodies to food.
The Food Allergy test report comes with a personalized profile showing how you tested against 95 foods most commonly associated with food sensitivities. The report indicates whether the levels of antibodies to the various foods suggest they are "safe" to eat, best to eat in moderation, or foods you should avoid entirely. Results are ranked and reported to you and your doctor as either safe or not safe.
After reviewing your test results, you may wonder what's left for you to eat, since it's not uncommon for many of the foods causing you the most trouble to be your favorite foods. Although each person's plan may vary, more than likely your Holistic Counselor will ask you to avoid the foods that are considered "unsafe" on your test results. Generally, this means going on an elimination diet for up to 30 days, during which time you avoid the foods that you are most reactive to in your profile. It's a good idea to also avoid foods that are from the same "family" as those foods you are reactive to. For example, sensitivity to one kind of shellfish may mean that you should avoid other types of shellfish for a certain length of time.
The Food Allergy Test is comprised of these 95 common foods:
FISH +DAIRY
Cod
Cow's milk
Halibut
Casein
Salmon
Cheddar cheese
Tuna
Goat's milk
Tilapia
Cottage cheese
Sardine
Whey, New Zealand
Sole
Mozzarella cheese
Trout
Swiss cheese
MEATS + SHELLFISH
Beef
Clam
Chicken
Crab
Egg White
Lobster
Egg Yolk
Oyster
Lamb
Shrimp
Pork
Turkey
GRAINS + NUTS
Barley
Almond
Corn
Peanut
Oat
Pecan
Rice
Sunflower Seed
Wheat
Walnut
Buckwheat
Sesame Seed
Gliadin
Gluten
Malt
Quinoa
Hemp
VEGETABLES + FRUIT
Asparagus
Apple mix
Beet
Apricot
Black Olive
Avocado
Broccoli
Banana
Cabbage
Blueberry
Carrot
Cranberry
Cauliflower
Grapefruit
Celery
Lemon
Cucumber
Nectarine
Garlic
Orange
Green Bean
Papaya
Green Pepper
Peach
Kidney Bean
Pear
Lentil
Pineapple
Lettuce
Plum
Lima Bean
Raspberry
Onion
Red Grape
Pea
Strawberry
Potato
Watermelon
Soybean
Spinach
Pumpkin
Tomato
MISCELLANEOUS
Baker's Yeast
Brewer's Yeast
Cane Sugar
Chocolate
Coffee
Honey
Mushroom
Candida Screen
Note:
Fasting is not required for this test. Results for the Food Allergy Test take 4-6 weeks.