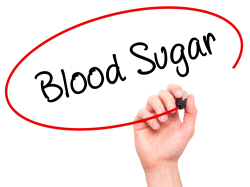 Have you ever thought that your anxiety may be caused by low blood sugar?
So many of my clients who have mood swings and depression actually just struggle with low blood sugar (aka hypoglycemia).

If you find yourself overwhelmed by anxiety or panic attacks take a look at your blood sugar.
Many of my clients report they get anxious when their blood sugar is dipping. Our organs and brain rely on a steady supply of sugar. When your blood sugar is on a tailspin your body calls an alarm signal. This sets into motion a hierarchy of processes all to make sure that your organism continues to function. It sends a stress signal to your liver to break down the storage of starch to bring back your blood sugar into balance. As sugar is essential to your organism and organs survival this stress signal feels identical to anxiety.
Here are 4 important questions to ask yourself.
WHAT HAVE I EATEN TODAY
Am I nurturing myself with nutrient rich foods (a diet including fruits and vegetables and whole foods) or on a diet that is nutrient empty? One that consists of coffee, pastries, breads, pasta, processed and prepared foods, other sweets and stimulants and little to no fruits and vegetables?
Your body needs adequate protein, fat and carbohydrates (sweet potato, white potato). If you do not consume nutrient rich food, our body's ability to replenish your cells and regulate our nervous system is lowered. When your body does not have enough nutrients essential organ functions are inhibited.
DID I SKIP BREAKFAST?
If there is one thing that better your well-being, it is to eat a breakfast. The roller coaster of blood sugar instability starts with not having adequate nutrient and fat rich breakfast. Eating breakfast kicks off metabolism, turns your brain on and begins regulating blood sugar for the whole day. You want to make sure your breakfast is high in natural fats with egg yolks, coconut oil, nut butter, clarified butter. If eating in the morning is not your thing, try my mood regulating smoothy recipe.
DOES MY DIET INCLUDE HEALTHY FAT?
Once you feel yourself on a blood sugar tailspin, increase healthy fats in your diet. Start by having a spoon full or packet of coconut oil or a nut butter. Ideally you want to repeat this every few hours to keep a steady blood sugar supply. The result - better mental clarity and focus. After all, your brain is more than 60% fat.

Test it for yourself. Have a spoon full of coconut oil when you wake up or mid morning. You want to start small and see your organism response to the oil. You can then add another one, perhaps mid afternoon. Again see how this affects your mood. Then you can add one at 5 pm. You want to find out which times and amount works best for you.
IS THERE A SPECIFIC TIME OF THE DAY I AM GETTING ANXIOUS?
My clients blood sugar dips happen at different times of the day.I am getting antsy. When I kept a weekly log I realized this dip happened around 3 pm.
Your body's blood sugar is a good monitor of how well you take care of yourself. By keeping your blood sugar stable you can prevent unnecessary anxiety.Do not underestimate the value of taking small steps consistently. Over time they will result in a more clear and focused mind.